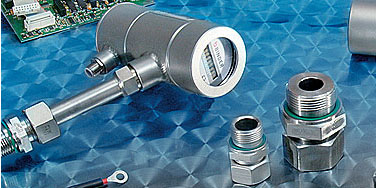 COMBIMASS® eco-bio+
[columns ] [column size="1/2"]
Thermal flow meter for direct measurement of normal volumetric or gas mass flows using integrated humidity correction
Flow rate measurement unaffected by pressure and temperature
For gas temperature up to 130°C and gas pressure up to 1,3 bar
Pressure-proof dual compartment stainless steel enclosure or housing from aluminum Compact and rugged design for exceptional reliability
Easy to install and service
Unmatched accuracy due to digital signal processing
Expandable due to modular design
EEx [ed] Zone 1 or Zone 2 optionally available[/column]
[column size="1/2"]
[/column] [/columns]
THE SYSTEM
The field transmitters of the COMBIMASS® eco series are suitable for gas flow measurement and cover a wide range of different applications. The instruments can be employed for process temperatures up to 130°C and are available in different explosion proof versions. All units of the COMBIMASS® series are characterized by high-performance digital signal processing.
The COMBIMASS® eco bio+ flowmeter is available in two different ex-versions: for the installation in ex-zone 1 with a compact and compression-proof stainless steel housing as well as for zone 2 with a cheaper aluminum housing. The electronics of the COMBIMASS® eco-bio + zone 1 is located in a dual compartment stainless steel enclosure. For transmission of the flow signal there are an isolated 4-20 mA analog output as well as a field selectable pulse output are available. Optionally a 10 digits LED display with control panel is available for both housings for the indication of actual flow rate or totalized flow as well as for field programming of the flow meter.
The COMBIMASS® eco bio+ flowmeter for the installation in biogas uses a 2-Pin-Sensor with 12 mm in diameter, which also supplies in this damp and dirty gas a stable signal. The sensor head is completely in high-grade steel manufactured and thus insensitive from a part to corrosion.
Each flow meter will be tested prior to shipment and calibrated at our CAMASS® calibration centre under actual operating conditions (piping layout, gas composition, pipe diameter, flow direction,...). The COMBIMASS® eco bio+ flowmeter is developed particularly for the fermentation gas market using thermal dispersion technology. This principle determines directly the gas flow at standard pressure and standard temperature. Thermal dispersion technology is suited particularly well for the use in wet biogas compared to other technologies (e.g. Vortex, ultrasonic, mechanical counters), since even at small gas speeds the measurement is very precise. A further substantial advantage is that all necessary compensations can take place directly in that one measuring instrument. The installation is not more simply at lower costs, the failure probability is lower than using a combination of three measuring instruments (temperature, pressure and flow) and no error summarization will take place.
The sensor consists of a heated and a non-heated reference sensor pin. When the flowing gas is crossing the sensor, the heated one is cooling down and represents thus a measure for the number of molecules (mass flow). However the dampness portion of the biogas is measured too. Therefore the gas mass flow at standard conditions according DIN 1343 paper cannot be measured directly, since the request of 0% relative humidity is not fulfilled.
The maximum waterdamp portion at saturation point depends only on gas temperature and is represented by a well-known equation. The temperature information of the non-heated reference sensor is used to determine and compensate the humidity in the biogas directly in the electronic part of the housing. Thus the dry gas mass flow can be determined at standard conditions finally, if the installation point is chosen well at a place where gas is waterdamp saturated. If not, special additional and expensive dew-point probes must be used for humidity correction.
Further manipulation-poor designs are available, e.g. for CDM-projects.
APPLICATIONS
Gases with methane from biogas or biomass fermentation plants using different technologies
COMBIMAS BROCHURES
[button link="http://www.bindergroup.info/binder/downloads/EN/BIDE-M-PROS-COMBIMASS-FLOW-EN-R03.pdf" preset="black"]DOWNLOADS[/button]