The "User Friendly Generation
The "User Friendly Generation" is no idle boast. BETA can – and always will – supply the best – instrumentation for the given conditions. Many years of close attention to our customer's requirements has resulted in a vast experience of virtually all known switch applications. Benefiting from this experience and using our expertise, you will find all of this in our "User Friendly Generation".
Major users of switches all over the world, all areas of industry, already enjoy the benefits of BETA's "user friendly" switches. BETA manufactures high quality instruments to meet all of your requirements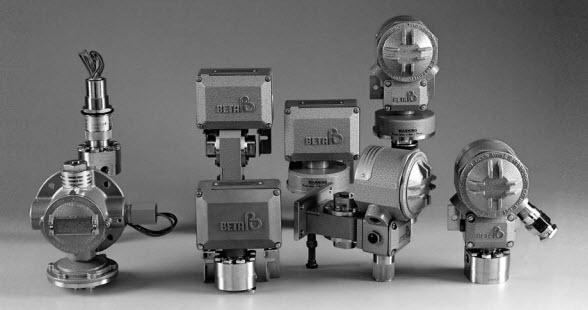 The Beta Principle
A high quality, self-aligning diaphragm/piston sensor is the heart of a BETA switch. The limited piston travel translates pressure at the diaphragm directly to actuation of the microswitch, with no intervening linkages or mechanisms and with full protection against very high overrange pressure.
The piston sensor is isolated from the process fluid by a diaphragm and static O-ring seal, retained by a process connection port. These three are the only process wetted parts and are available in an extensive range of materials.
The Features
SAFETY
Safe, secure electrical hookup by clamp terminals
Standard earth terminal
IP 66 enclosure
Solid cover with gasket and captive screws

RELIABILITY
Highest Overrange protection.
Spring loaded piston, excellent resistant against shock
and vibration.
No pipe strains on the instrument to cause shift of setpoint, due
to separate flexible stainless steel mounting bracket.

QUALITY SGS
SGS certified Quality Assurance according to ISO 9001 – 2000 covers all switch
manufacturing, Engineering & Design

APPROVED BY
ATEX: KEMA CE 0344 and PED: TÜV CERT. CE 0035
(For more; see also page 16,17 and 18)

ECONOMY
The wide range of process-wetted materials virtually eliminates the need for
costly chemical seals

SERVICE
The international BETA sales network backs up this high quality product with
an equally high quality service

READ MORE…
CLICK HERE