SCHUCH QUALITY – YOUR ADVANTAGE
Sturdy design of high chemical resistance for application in rough industrial conditions:
Housing from glass fibre reinforced polyester
Polycarbonate diffuser of high impact strength (equal wall thickness: 2,5mm)
Highly resistant foamed silicone gasket of dimensional stability that stands for a permanently safe tightness against water and dust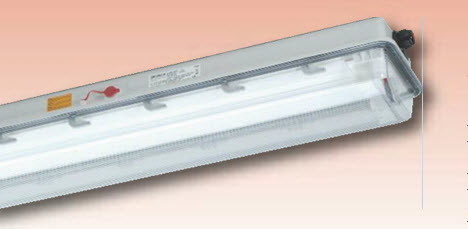 EC-Type Examination Certificate
PTB 07 ATEX 2040
PTB 09 ATEX 2031, 2039
Other approvals: GOST-R/ROSTECH-NADZOR (Russia)
Rated voltage: 220-240V AC/DC
Marking
II 2 G Ex d e q IIC T4
II 2 D Ex t IIIC T80°C IP66/641)
Ignition protection: e (increased safety)
Frequency: 0 or 50-60Hz
Application: Hazardous areas of zones 1, 21 and 2,22 as standard illumination or as emer- gency illumination in combination with external power supply units
Housing: Glass fibre reinforced polyester resin
Cover: Clear polycarbonate with internal prisms, hinged
Gasket: Silicone, foamed. reflector, glass fibre reinforced polyester, hinged and removable
Central locking system: Operated by a hexagonal socket key 13mm
Isolating switch: Switching off all poles when the light fitting is opened

Wiring: Electronic ballast with "end-of- life switching-off system"
Connection: Prepared for looping the mains cable on one small side. Terminal L1 + N + PE up to 6mm² max
Cable entries: 3 entries M25 x 1,5 (2 glands,1 of them with plug and 1 screw plug)
Through wiring system: Looping the mains cable at one end of the housing or through wiring up to 5×2,5mm² possible at extra charge
Mechanical installation: 2 suspension hooks (H8V P) or 2 ceiling brackets(15A P), see accessories.
READ MORE…