Công tắc chống cháy nổ
Những khu vực như kho chứa gas, dung môi, hóa chất, sản xuất sơn, chiết rót dầu khí là nơi có nguy cơ cháy nổ cao. Ở các khu vực này, công tắc chống cháy nổ là bắt buộc phải sử dụng.
Công tắc chống nổ thường có 2 loại, on/off switch và changer over switch. Công suất 16A-25A. Độ kín của công tắc này vào khoảng IP66, IP67(tùy chọn).
Công tắc chống cháy nổ BZM
Đường cáp điện vào thường dùng cable gland DQM-II chuẩn chống cháy nổ ex d, size M25x1.5.
Vui lòng gọi để biết thêm chi tiết.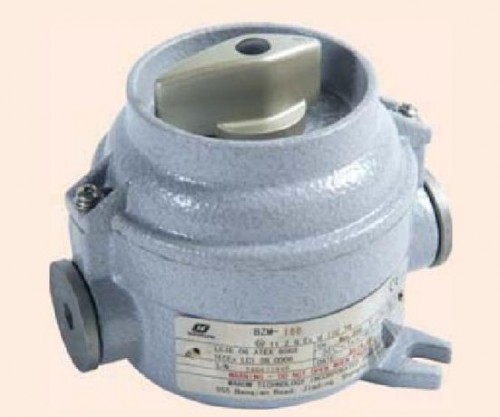 DESCRIPTION
EX certificated pressure switches/transmitters and measurement instruments
are suitable for the installation in the industrial plants with potentially hazardous
atmosphere classified as Zone 1 and Zone 2 for gases and Zone21 and
Zone 22 for combustible dusts.
Pressure switches can be utilized for gases and liquids.
The installed devices in the enclosure are chosen from the leader companies
in the sector according to clients' requests and needs.
Special Executions for the enclosure (On Request):
– Cover with window
– Can be equipped with external adjustment devices.
– Process connections in AISI304 or AISI316L through Ex-proof certificated
flame arrasters.
– Internal&External special coating for harsh atmospheres.