Thermal flow meter for direct measurement of normal volumetric or gas mass flows
Flow rate measurement unaffected by pressure and temperature
For gas temperatures up to 220°C and gas pressure up to 63 bar
Pressure-proof dual compartment stainless steel enclosure
Compact and rugged design for exceptional reliability
Easy to install and service
Unmatched accuracy due to digital signal processing
Expandable due to modular design
Wide range of different sensors for each specific application
EEx [ed]Zone 1 / EEx [ia]Zone 0 optionally available
THE SYSTEM
The field transmitters of the COMBIMASS® eco series are suitable for gas flow measurement and cover a wide range of different applications. The instruments can be employed for process temperatures up to 220°C and are available in explosion proof versions. The flow transmitters apply thermal dispersion technology in order to measure in dry gases directly the normal volumetric or gas mass flow, regardless of the operating pressure and temperature of the medium. For wet gas applications (digester gas from sewage treatment plants, landfill gas) a version with integrated humidity correction can be supplied.
All units of the COMBIMASS® series are characterized by high-performance digital signal processing. Important features of the transmitter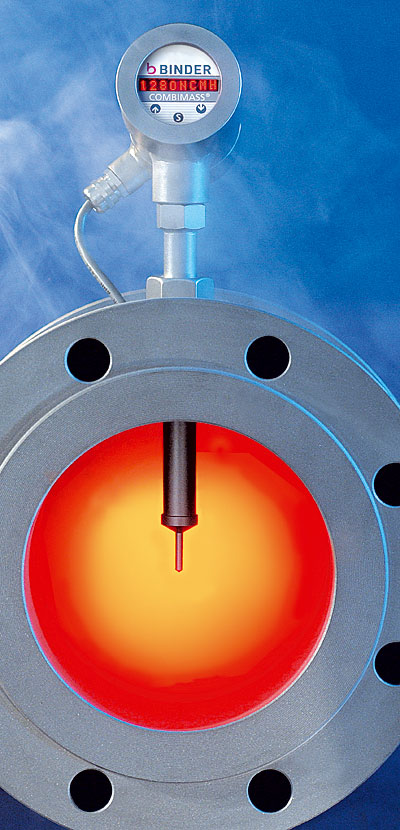 The electronics of the COMBIMASS® eco is located in a compression-proof dual compartment stainless steel enclosure. Optionally a 10 digits LED display with control panel is available for indication of actual flow rate or totalized flow as well as for field programming of the flow meter.
The purposes of practical operation are the temperature compensation and the opportunity to select different measuring modes (choice between constant current or constant temperature principle).
For transmission of the flow signal an isolated 4-20 mA analog output as well as a field selectable pulse output are available. For intrinsically safe operation a dedicated process interface module has been developed for the power supply of the flow transmitter In such a case, the signal output is done via an I/O module installed downstream of the process interface module.
The circuitry of the process interface module and the I/O module is located in a top hat rail housing for easy switch cabinet assembly. Also an optionally available graphic display can be installed there.
The flow transmitter can be combined with a wide range of different sensors of the COMBIMASS® family and assembled individually according to the specific application. Each flow meter will be tested prior to shipment and calibrated at our CAMASS® calibration centre under actual operating conditions.
APPLICATIONS
Compressed air – flow rate measurement and balancing
Air and technical gases
Combustion gases such as methane, propane, natural gas, etc.
Exhaust air and waste gases
Combustion air in incineration plants
Biogas in wastewater and environmental installations
Process gases
Gases and gas mixtures of known composition