SCHUCH QUALITY – YOUR ADVANTAGE
A high-quality chemically resistant light fitting of a sturdy design, best suitable for a long-time application in industrial areas
Housing of a high impact resistance, wall thickness: 2 mm
Cover impact resistance: 16 Nm
Captive clips made fom stainless steel
Shock resistent up to 16g
Wide range of Permissible ambient temperature from -20°C to +40°C (50°C on request)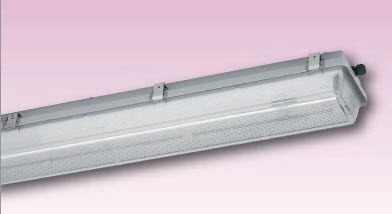 Applications:Hazardous locations of zones 2 (gas) and 22 (dust) as standard illumination or as
emergency illumination in combination with light power supply units
Design:Housing: Glass fibre reinforced polyester resin
Cover: Injected clear polycarbonate (PC) with internal prisms
Closure: Stainless steel clips (KE), one of them as safety clip (KES), to be opened
with screwdriver only. Stainless steel hinges(SC) on the opposite side
Reflector: Suspendable, glass fibre reinforced polyester, carrying the electrical components which are protected against accidental contact
Connection: 3 poles up to 2,5 mm²
Cable entries: 2 entries M20(2 glands – one of them is plugged)
Through wiring system up to 5 x 2,5 mm²at additional charge
Standard: Horizontal, facing downwards or forwards
Mechanical installation: There are closed knock-outs in the housing for direct ceiling mounting. Sealing
gaskets can be found inside the luminaire.(Mounting accessories please see spare parts/accessories).
READ MORE…
CLICK HERE