1. Model: TH7NC NON CONDUCTIVE HYDRAULIC HOSE – THERMOPLASTIC
2. Origin:GATES – USA
3. Standard:SAE 100R7
4.Application:  Recommended For: Petroleum and synthetic hydraulic fluids. Applications include: power and telephone mobile equipment (cherry pickers), lubrication lines, blowout preventer control lines, hydraulic lifts and farm and construction machinery. Orange color TH7NC meets SAE 100R7 nonconductivity requirements and meets or exceeds performance requirements of SAE 100R7 with a significantly tighter bend radius
5. Structure: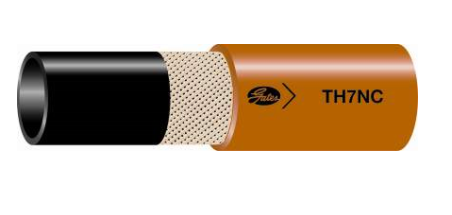 – Tube: -2, -12, and -16: 100% seamless Nylon – Type Z that easily handles a broad range of hydraulic fluids, including phosphate esters and water glycol; -3 through -8 Polyester.
– Reinforcement: Synthetic fiber (except -2).
– Cover: Orange Urethane that resists hydraulic fluids, high temperatures, aging and weathering. Orange TH7NC is non-perforated for applications requiring electrical non-conductivity. Meets SAE 100R7 Electrical Conductivity Test. Maximum leakage shall not exceed 50 microamperes when subjected to 75 kV/Ft. for five minutes. (Orange is industry accepted color for non-conductive hose).
6. Temperature: -65°F to +200°F (-54°C to +93°C) continuous service for petroleum and synthetic oils. Maximum of +158°F (+70°C) for water, water/oil emulsions and water glycol.
7. Specifications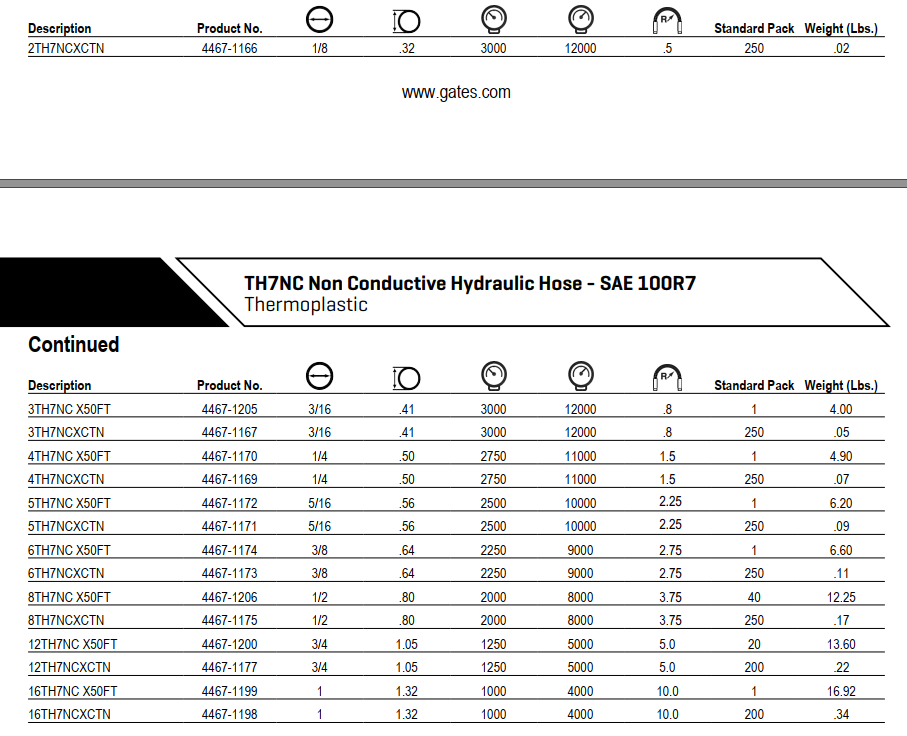 DPKT TECHNOLOGIES CO., LTD.
Head Office:
14/1 Trinh Hoai Duc Str., Hiep Phu Ward, Dist. 9, HCMC, Vietnam
Tel: +84 28 3736 7109   Fax: +84 28 3736 7110
Hanoi Office:
174 Quang Trung Str., Quang Trung Ward, Ha Dong Dist., Ha Noi
Tel: +84 24 6660 5115
Ha Tinh Office:
Quyet Tien Hamlet, Ky Phuong Ward, Ky Anh Town, Ha Tinh Province.