LED LUMINAIRE FOR EMERGENCY USE
BLD230E series are built to perform effectively and economically in areas that may be difficult to service, expensive to shut down, or any location requiring an increased degree of safety.
BLD230EA is working as standard light in normal condition and will continue to work when main power shut down. BLD220EB work only when main power shut down.
Compared with conventional lighting, LED Lighting consume up to 85% less energy and typically last as long as 60,000 hours or more.
Explosive gas atmosphere: Zone 1 and Zone 2
Combustible dust environment: Zone 20, Zone 21, and Zone 22
Explosive gas atmosphere of IIA, IIB; T1-6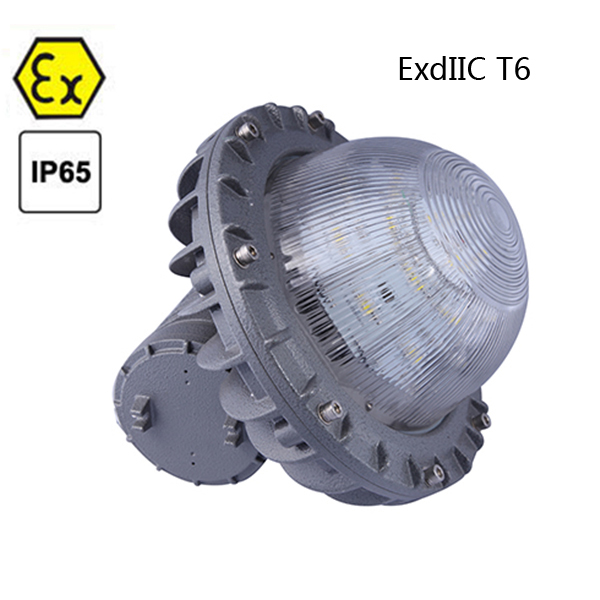 Energy-efficient: compared with conventional lighting, LED consumes up to 85% less energy.
Long life: last to 60,000h rated life or more, 50 times of incandescent bulbs, 8 times of fluorescent lamps.
High light efficiency: dedicated honeycomb mirror enhance bigger lighting area, uniform illumination.
Horizontal tri-chamber structure, driver and wiring ensure LED heat will not affect driver and wiring parts.
Optimized heat sink: aluminum housing with air diversion structure removes heat from the LEDs and driver to ensure longer life.
Excellent 180° illumination, meet high illumination demand.
Wide voltage range: AC220V type can operate within 90-260V range.
Multi-protection: constant current with short-circuit and overvoltage protection.
Good EMC: excellent electromagnetic compatibility and anti-interference.
SMT technology: surface mounting technology keeps low working temperature of LED chip.
Standard material: copper-free Aluminum housing, surface with epoxy powder coating, tempered glass and stainless steel external hardware.
Emergency type: 20/30W can be battery built-in, last to 60 min working after power cut.

Explosive gas atmosphere: Zone 1 and Zone 2
Combustible dust environment: Zone 20, Zone 21, Zone 22
Explosive gas atmosphere of IIA, IIB and IIC; T1-6

Widely used in harsh and hazardous environments and industries of Petroleum Industry, Petrochemical Industry, Shipping Industry, Mining Industry, Military Industry, Metallurgical Industry, Power Generation Industry, Power Transmission Industry, Railway Industry, Public Security and Fire Fighting, etc

Classification: Group II Category 2GD
Applicable Zone: Zone 1 – Zone 2 (Gas) & Zone 21 – Zone 22 (Dust)
Standards: IEC60079-0, IEC60079-1, EN60079-0, EN60079-1, IEC60079-31
Ex-mark: ExdIIC T6 Gb/ExtⅢBT85℃ Db
Rated Voltage: AC/DC 220V(*1) 50/60Hz
Rated Wattage: 5W, 1OW, 20W, 30W, 40W, 50W, 60W, 70W, 80W
Luminous Flux: 500Lm, 1000Lm, 2000Lm, 3000Lm, 4000Lm, 5000Lm, 6000Lm, 70000Lm, 8000Lm
Emergency Duration: 90min
Battery Specification: Heavy duty Ni-Ca battery, 1800mAH
IP Grade: IP66
Corrosion-proof Grade: WF2
Ambient temperature: -20°C~ +60°(-40°C optional)
Cable Entry: G3/4″ threads, for cables of Φ10mm~Φ14mm(*3)
Terminals: wires≤2.5mm²
Installation: BracketMounting (Wall)